Mr. Arjun Bharwad (CMD) started his own business with his own Mechanical Knowledge and running a business producing Lined valve and Lined Pump Making Machine, when he started this business in 2002, the name of the company was Shakti Industries.
In the year 2021, Sindhwai Hydraulic Private Limited came into Existence keeping the Shakti Industries as a fond Reminder of the past.
Sindhwai Hydraulic Private Limited Located at Ahmedabad, Gujarat (INDIA). We are leading Manufacturer, Exporter and Supplier of Lined Valve & Lined Pump Making Machine, PTFE Extrusion Machine Plant & Hydraulic Press. We Offer Wide Range of Machines is Injection Transfer Moulding Machine, PVDF Impeller Machine, Automatic Transfer Moulding Machine, PFA Ball Valve Lining Machine, FEP Lined Valve Machine, PTFE Extruder Machine, PTFE Preform Press Machine and much more.
We Continuously Update our Manufacturing Systems and have a Highly Skilled and trained workforce.
We Supply Machines Worldwide and have a carefully chosen and well-trained Engineers.
Sindhwai Hydraulic Private Limited is Focused on Excellence in Manufacturing and Customer Service we believe that our dedication to continuous improvement and innovation will set the benchmark in the Industries.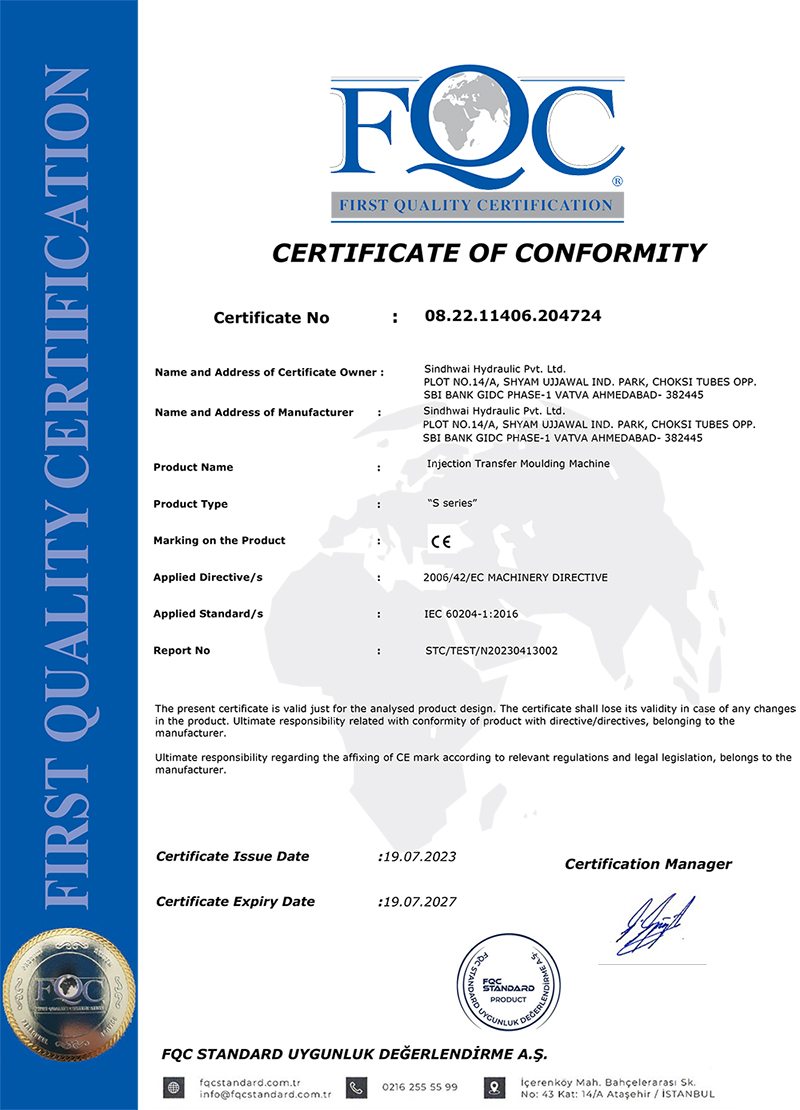 From a simple origin, Sindhwai Hydraulic has risen from strength to strength; now to become one of the most renowned business enterprises in Ahmedabad, Gujarat. The company has employed the best of the talents, who can definitely anticipate the requirements of the customer and offers the most feasible solutions for their needs. We have maintained 100% timely completion of various prestigious orders, which has helped the company to gain an International fame. Some of the attributes that have contributed to the consistent growth and success of the Sindhwai Hydraulic are:
From a simple origin, Sindhwai Hydraulic has risen from strength to strength; now to become one of the most renowned business enterprises in Ahmedabad, Gujarat. The company has employed the best of the talents, who can definitely anticipate the requirements of the customer and offers the most feasible solutions for their needs. We have maintained 100% timely completion of various prestigious orders, which has helped the company to gain an International fame. Some of the attributes that have contributed to the consistent growth and success of the Sindhwai Hydraulic are: