Leading Manufacturer of Hydraulic Press Machine in India
Incepted years ago in this domain, we are engaged in offering the best quality of Hydraulic Press Machine, which finds great usage in diverse industries. We are considered to be recognized manufacturer, supplier of Hydraulic Press Machine with the brand name of Sindhwai Hydraulic.
The Hydraulic Press Machine is the staple of the manufacturing industry. These machine works on pascal's principle that states that pressure remnants steady all over the closed system. The system consists of of two pistons of which one acts as a pump and the pump relates a small amount of mechanical force on a region of small cross-sectional area. On the other hand, the second piston has moderately superior area that is able to create significant amount of mechanical force.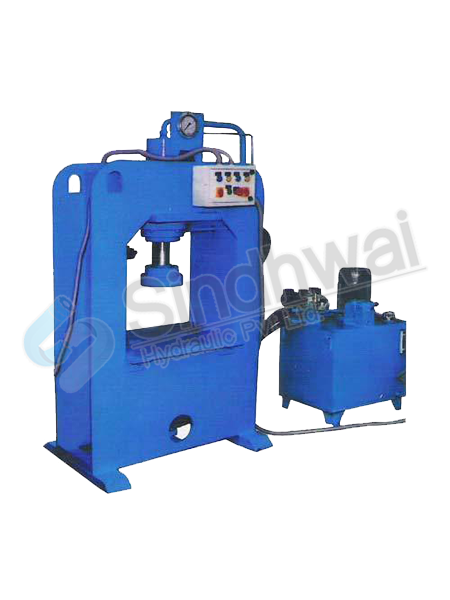 When a small amount of force is applied on the smaller piston, a pressure is twisted that is transmitted to the hydraulic fluids that distribute it to the large piston. The hydraulic press machine is the staple of the manufacturing industry. With the start of this adaptable tool, can be turn metallic objects into sheets of metals.
The offered hand operated hydraulic press machine is a heavy structure, which can abide weighty loads and shocks. Our provided hand operated hydraulic press machine is extensively used for pressing operations on industrial materials and sheets. Our organization manufactures and supplies an ample range of Hydraulic Press Machine, which finds enormous usage in different industries. We manufacture these machines as per the industrial norms and standards using high-grade components and other raw material to guarantee the superiority of our products.
If you are looking for a consistent and gainful solution to help you mold the most complex parts, a hydraulic press machine is an ideal solution for your business.
keytags – We offer wide range of Hydraulic Press Machine, Hydraulic Press Machine Manufacturer, Hydraulic Press Machine Supplier, Hydraulic Press Machine Ahmedabad, Hydraulic Press Machine Gujarat, Hydraulic Press Machine India